'Don't ask questions, just withdraw the money now'–Israeli holders of Silicon Valley Bank accounts sent warning prior to bank's collapse to withdraw funds
'Stop everything you are doing now and give the order to withdraw all your money from SVB. Don't ask me questions, just do it,' wrote Avi Eyal, managing partner of venture capital fund Entrée Capital, in a dramatic WhatsApp message to his portfolio companies on Thursday evening, noon New York time.
At that stage, the share price of Silicon Valley Bank, the preferred bank of the global high-tech industry, including Israel's of course, had already begun to drop sharply and ended up causing a run on the bank. It ended with its closure last Friday by the American regulator Federal Deposit Insurance Corporation (FDIC) after $42 billion were withdrawn over a short period of time.
After the stormy weekend in the Israeli high-tech industry, it turns out that a large part of the companies managed to withdraw at least part of the money from SVB already on the night between Thursday and Friday.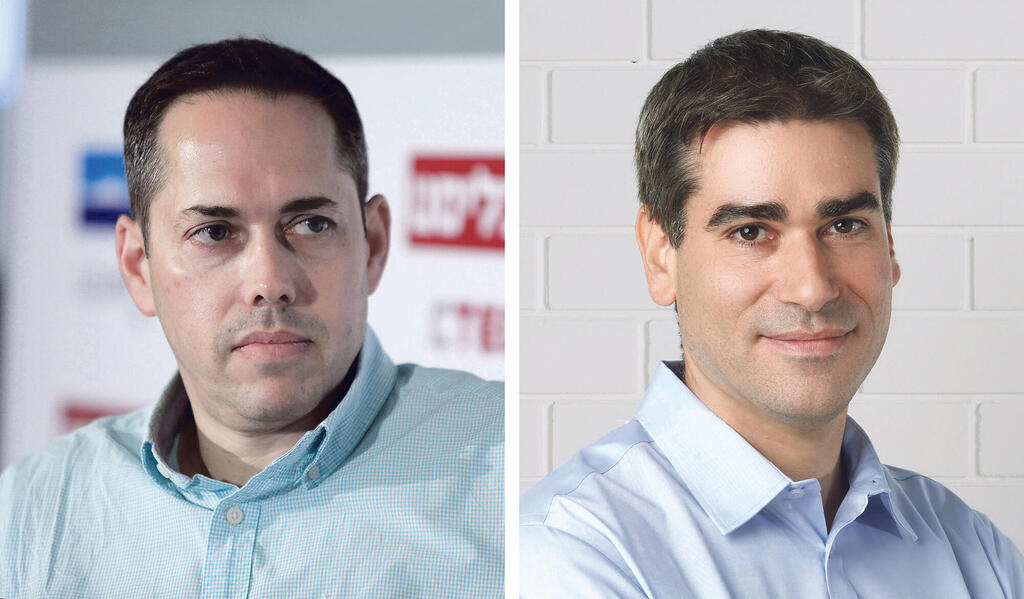 Avi Eyal (left) and Shai Morag
Others, who gave an order that was stuck during the weekend and had already given up, saw yesterday that the money came in after all. It is estimated that the Israeli companies managed to withdraw most of their money from SVB, with some going to banks in Israel and some to the accounts of other banks abroad.
'We tell all our companies from stage A onward to open accounts in two different banks in each country. We require companies that have raised over $50 million to have four different bank accounts,' says Eyal. 'You could say this is Israeli paranoia, but you saw its value this weekend. The Americans got stuck because they are positive and have basic faith in their system, so they didn't withdraw the money right away, and the British, where the bank is also very active, didn't even know that such a dramatic event was happening.'
Entrée Capital manages over $1 billion and is invested in a long list of Israeli startups, including Empathy, BeeHero, Fundbox and many others. Eyal also tweeted on Sunday that companies, even those not included in the fund's portfolio, are invited to contact it for a bridging loan. 'If you are a startup that was affected by SVB and need to understand how to solve your financing challenges, we are willing to help.'
In a conversation with Calcalist, Eyal explained that his offer for bridging loans for startup companies stems from the fact that he wants to prevent good companies from getting stuck because of an inability to withdraw money.
But not everyone had to wait for instructions from their funds. 'My CFO already started on Thursday afternoon to follow the developments after CFO groups in Israel started sending updates on what was happening at SVB. Everyone saw the stock falling, but it was not yet clear what this meant. In the evening we realized how serious it was and said that maybe something should be done immediately. We talked to our investors to understand if actions were required of us and at 11 at night we decided to withdraw the money. On the night between Thursday and Friday, the money came through. We were able to withdraw tens of millions of dollars that we had there and we were left without significant exposure,' said Shai Morag, co-founder and CEO of the cybersecurity company Ermetic and a serial entrepreneur who previously sold Secdo, which he founded, to Palo Alto Networks for $100 million.
At the end of 2021, Ermetic raised $70 million led by Qumra Capital. Today Ermetic, which made headlines after its paid appearance on TV series 'Fauda', employs 150 people, of which 50 are in the U.S. and the rest in Israel. It recently laid off 17% of the workforce.
'All our investors were in the loop and the vast majority were in favor of withdrawing the money, but in the end the decision was mine and the CFO's. This event leaves me with the insight that the money needs to be distributed among several banks. It is true that the banking system in Israel is more conservative and many grumble about it, but in times of need it is important. If SVB gets bailed out, and the same employees will remain, we will definitely return to work with them,' he noted.
In a letter seen by Calcalist, venture capital fund SOMV notified its investors that its portfolio companies hold $23.4 million in SVB. Seven companies have relatively high exposure to the bank as defined by the fund, including three companies that hold almost all their liquidity (90-100%) at the bank. These companies received investments from SOMV's relatively new third fund and each have balances of $2-5 million.
It is estimated that there is no startup in Israel that does not hold an account at SVB, which is used to pay salaries in the U.S. and also to receive money from customers as soon as sales begin.